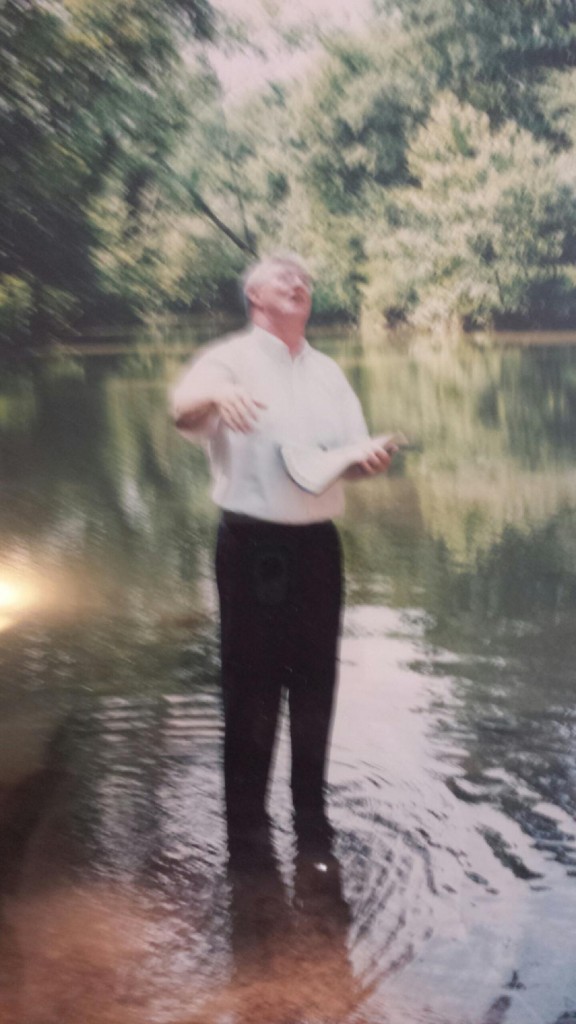 Bro. Billy Parker received the Holy Ghost on December 9, 1962. When he was almost 22 years old, one night as he was praying God took him over in the spirit and showed him a beautiful vision. He knew the Lord was calling him into the ministry, and like many others was frightened by the burden and responsibility of such a position. He told the Lord he couldn't do it, and again he went over in the spirit and he beheld a man under a tree with the book in his hand. The man said, "Won't you take it? Why won't you take it?" He told the Lord he would and began to study to qualify. 
        In February of 1974 God sent him to a little church called Tiftonia. They were without a pastor since the death of Bro. Jim Goza. One night as he was preaching Bro. Hodges Moore laid hands on him, and the Lord again took Bro. Billy over in the spirit. The Lord showed him the end of the vision he had first seen 9 years earlier. When he arose from the floor he told the children of God that the Lord had sent him to be their preacher. For the next 38 years the church at Tiftonia grew, the Lord blessed, and many came to the Lord because of Bro. Billy's desire to work for God.
         The website you are visiting today is the result of a lot of hard work by many different people; however, there is one individual who's desire and vision for a website such as this was the driving force in its creation. That man was Bro. Billy Parker, pastor of Tiftonia Holiness Church. Many years ago as the internet began to grow and become a part of our lives, Bro. Billy envisioned a place where those associated with the Free Holiness faith could visit. With the help of others this dream became a reality. Many had enjoyed reading the Glad Tidings published by Bro. Bryant Finlayson and his family. Even after production of these newsletters ended, people would often talk of the joy they had while reading these. Thanks to the vision of Bro. Billy, these are forever preserved for you to enjoy. The teaching of our fathers in the Lord such as Bro. Jack Denson and Bro. Dewey Barrier can be
listened to by those who never had the pleasure of hearing them. 

         On April 28, 2012 Bro. Billy's work was completed when the Lord called him home. After his passing, the site became out of date and some of the information such as church listings needed correcting. We have attempted to make these changes and modernizations while preserving the hard work that went into its creation. We hope that this site will be a blessing to you, and help to make your fight a little easier.