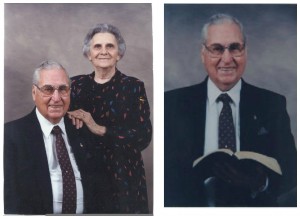 Bro Willard & Sis Virginia Wooten
  The Friends Of Those Cast Down And Trodden Underfoot 
     Bro Willard was born March 31, 1914 in Marshall County. Al. to James & Jessie Wooten. He received the Holy Ghost at age 19. Then he met the Love of his life Ms. Virginia Pepper, they were married July 13, 1934.  They were blessed with 5 children.
     He was known for his zeal to work for the Lord and his love of singing. Sometime around the late 30's he formed a group called "The Sacred Tones". He was one of the founders of Holiness Gospel Singings and taught music to many people. His name is in the "Southern Gospel Hall Of Fame". 
      In 1952 Bro Willard & Sis Virginia moved up north, he was 39 years old at this time. He worked under Bro Henry McLain while at Black Oak. He moved south and started the Elkwood Holiness Church in 1966. There he was know for teaching Love & Mercy. One of the things most often told about Bro Willard was, while he was up north a dear Bro need shoes badly, Bro Willard just took his off and gave them to him (Bro Preston Buckner). Bro Willard went home barefoot and snow was on the ground.
     Under his preaching, hundreds received the Holy Ghost. Bro Willard died April 7, 1996 Easter Sunday, his favorite day of the year. he had been in a coma for a while and the nurses could not understand why he had not already passed on. One day his daughter (Sis Joan) told him today is Easter. A tear rolled out of one of his eyes and down his face and Bro Willard left this world for that better home. 
I hope you enjoy these audio sermons.  If you wish to download them, right click the sermon and choose save link as (for chrome and firefox) or save target as (for internet explorer).